Tough to Top...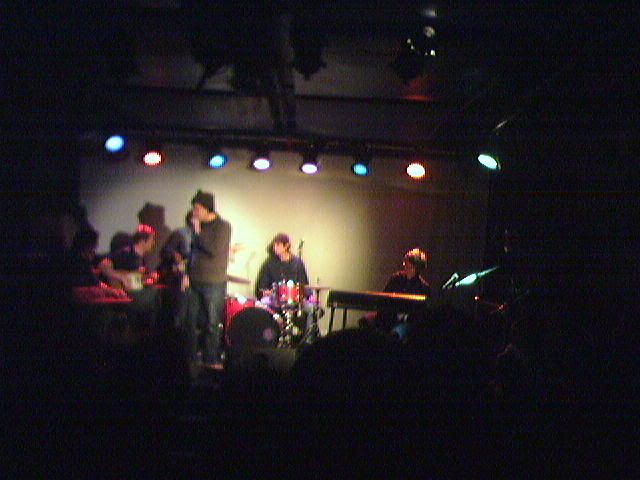 (via Cameraphone v2.0)

Last night was Tinkle, which was hilarious, natch...But the big earth-shattering surprise was Wilco coming out as the special musical guest. Dave caught Tweedy walking into the stage area before they opened the doors, giving me enough time to call up a friend (and big Wilco fan) to come in from Brooklyn and use my extra. They covered a couple songs (Captain and Tenille?) and played one of their own. At Oxegen they played at one of the smaller tents, and I regrettably didn't get to see them do more than a couple songs. So now I've seen a few more songs at an even smaller venue...and this time I was standing next to David Cross the whole time. Ha. I'm sure someday I'll catch them play a full set...but it will not be from the cheap seats at The Garden tonight, that's for sure. Anyway, after they played, we had to bounce, hoping they weren't going to go back on and play a second round. I don't think they did. Check here, here, and here for more stories, better pics, and a short video.

Afterwards we went around the corner to Mercury Lounge For !!!, which was, in all seriousness, one of the most fun shows I've ever been to. I've prolly seen a few dozen bands play at the Merc, and I have NEVER seen the place even come close to this. The entire place was jumping up and down, dancing around, frantically passing weed and cigarettes between each other...It was like a scene out of the Sharing of the Grooves dance tent...unreal. Next to Franz @ Volume, it was the most I've danced, or seen other people dance all year. Helluva time.

Alright, I've got the day off, and I'll be damned if I'm gonna spend it in front of a computer, so that's it. Going to a friend's place tonight to bring in the New Year, then maybe Motherfucker, maybe Drive Bys, or maybe even the Delancey after...playing it by ear from there. Have a good one.