One last week...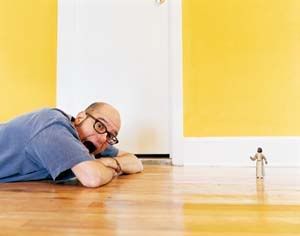 So this weekend was typical holiday normalcy...See family and some old friends who are home before the holiday, spend the rest of the time killing time. The city felt empty, and due to the cell phone snafu, my only real human interaction for the last couple days has been with the guys at Bagel Bobs and the Domino's delivery man. It doesn't hurt to have a weekend like this every once in a while. This week should be pretty laid back as well through Wednesday...assuming you're not a huge Beatles or Patti Smith fan.

The handful of Metal fans here in the city will prolly go check out one of the From Autumn to Ashes shows at the Knitting Factory. As far as this type of stuff goes, these guys are good, but hardly my scene or style...I'll pass. Then Thursday you've got two sets of !!! at the Mercury Lounge. The 10:30 show is sold out, but tickets are still available for the 7:30 one. As always, sets at The Merc are by rule one half-hour later than the posted times, so plan accordingly. There is also an All-Star Tinkle line-up at Pianos featuring David Cross, Todd Barry, Jon Benjamin, Paul F. Tompkins, Fred Armisen, Eugene Mirman and a special musical guest. This is sold out as well, but you can watch it live on the TVs upstairs for free. There should be plenty of time to make it over to the late !!! set after this, if you are lucky enough to have already gotten tickets to both.

Then of course, Friday night will be the years biggest disappointment for 99% of New York's population. People come here from around the world to squeeze an entire lifetime's worth of relevancy into one night. No matter how hard you try, you will not be able to avoid them. I'll talk about this more later in the week, but for now I'll clue you in to what has been the key to almost every one of my most fun and interesting NYE's...Go to Brooklyn.

Finally, I'll be working on some updates and changes to CentralVillage in the coming weeks...so bear with me if things get a little flaky around here.