Hangover Edition

We had our Christmas party last night. Sloppy sloppy...

A while back I mentioned that Amazon.com was giving away T-Mobile Sidekicks for free if you signed up with a new plan. I knew that deal had come and gone, but I checked back again recently and noticed they will now pay you $50 if you order the phone. $200 is the cost up front, minus a $200 Amazon rebate, minus a $50 T-mobile rebate equals $50 more dollars than you started with. So once again...

If you order a Sidekick II off Amazon and sign up for a new plan, Amazon will give you the phone for free, plus $50.00.

Just wanted to make that clear.

Golden Fiddle drops a link about the new Will Ferrell flick "Bronze God", where he plays an underdog beach volleyball player. I don't quite think I'm ready yet to go into my epic and highly decorated High School volleyball career...But believe me when I say it was nothing short of glorious. Obviously, I can't wait for this movie.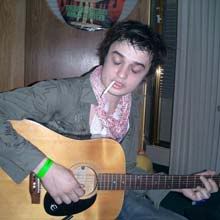 I think The Libertines took one more giant step towards becoming rock history with this little display. It's sad. I'm starting to think passing up that Webster Hall show may have been a mistake. When's the next time Carl or Pete are gonna be playing their songs in NY? Maybe not for a long long time.

Pitchfork sez Arcade Fire will be playing at Bowery and Irving, not Bowery and Warsaw. I'm pretty sure they're wrong, and it wouldn't make any sense whatsoever, but it's strange the second night has not gone on sale yet. In more concert news I've already devoted way too much time writing about in the last few days, Colin Meloy tickets are on sale now, and if we are to believe What's Up New York (I have no reason not to), The Walkmen will, in fact, be playing a full set tonight at Irving, starting around 11:00.