I'm a human being...and I like catchy stuff.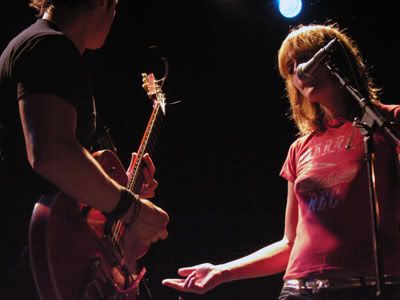 (UPDATE: Pic via BrooklynVegan)

Just got back from a real humdinger of a Broken Social Scene show. They had some major technical difficulties, which considering there are at times up to 11 people on stage, I can't imagine this is a total rarity. Regardless, they fought through it and played a stellar show. They went on for over 2 hours straight, which these days is a pretty impressive feat. By far the longest set I've seen at Bowery.

At one point they were talking about how sick they are of The Killers after hearing 'somebody told me' 5 times a day during their recent tour through Europe, which was funny for me, cause at the risk of sounding like a namedropper douche, when I was talking to Brandon Flowers in London last summer(*ahem*) and I had just seen Leslie Feist play the night before, he was talking about how he really LIKED Broken Social Scene. So that was awkward. For me at least. In my head.

So that was tonight...great great great show. This weekend was something else tho. The KROQ Almost acoustic Christmas show, as I already mentioned, was superb. Band by band...

The Music: I like their album a lot more then their live show. Still an entertaining set.
Snow Patrol: Love these guys. Been listening to their album more and more of late. Were very excited to be a part of such a great lineup, and very thankful towards the crowd...Convincing me further the Northern Irish are the nicest people in the world.
Keane: Catchy songs, but really don't do it for me live. The lead singer gets way too excited. He should untuck his shirt and chill out a bit.
Shins: So good. I wish they'd tour more. Don't pass up a chance to see them if they come around. James didn't look too thrilled to be playing such a fabricated event, but he didn't let it effect the show.
Taking Back Sunday: Um...not much to say. I wasn't expecting much so I took a chance to use the bathroom and go get a second thermos of champagne.
Muse: Now we're getting somewhere. Played a handful of songs off Absolution and that's it. Still put on the best live show around. From where I was sitting, got a great view of just how MASSIVE Chris' bass pedals are...he's got like a piano at his feet.
Modest Mouse: Very good. Played a nice mix of old and new...tho the crowd was obviously there for one song and one song only...
Gwen Stefani: Ho Hum. She bores me. Don't think she was singing either, but I was far away so I couldn't really tell.
Franz Ferdinand: Still got it. Love to play to the crowd and still, despite their beefs, seem to get along great on stage.
Killers: Somehow the set of the night. They know how to fill a hall, I'll tell you what. Tho the irony of yelping "indie rock and roll" to 6000 screaming teens in the middle of a Universal Studios theme park was nearly too much to handle.
Interpol: Love them, but nothing out of the ordinary. They need their special lighting setup to really stand out live, and the stock lights used to accommodate all the bands didn't really do the trick. The songs sounded great, but, as usual, identical to the records.
Jimmy Eat World: Left as they started to beat the crowd out. Not regretting it.

From there we went to some sort of afterparty Downtown, which seemed to be a bit of a sketchy hood. Once inside tho, it felt like we were amongst a bunch of OC extras on a field trip to Williamsburg. Interesting scene. The guys from Muse and Franz Ferdinand were supposed to show up and do a couple DJ sets, but we didn't stick around long enough to find out.

And that was that. I had a great weekend, tho I don't know how much more LA I could really handle. It's certainly good to be back in NY.