Biggie was a Notary...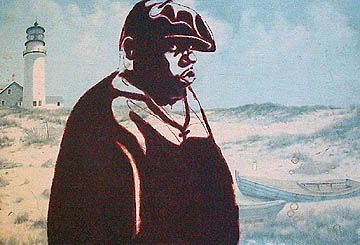 I'm supposed to take the Notary Public test tomorrow for my job.

Thing is...I haven't a clue what being a Notary means. I know I get a rubber stamp sent to me if I pass, which I guess will come in handy when I open up my nightclub. There's a manual I'm supposed to study, but it's like 30 pages long and I've been off the clock since 8. No way that's happening.

Honestly...HONESTLY, my only experience with a Notary Public is at the end of The Royal Tenenbaums when Royal gives his divorce papers to some old guy in a paperboy hat. Whatever he did with them after that is beyond me. Also, I hear you only have to get a 70 to pass, and Lord knows I've done better than that on tests I hadn't studied for. Of course, unless there's an essay section I can bullshit my way through, this might be marginally tougher.

By the way, if anybody I work with is secretly reading this and hasn't told me, I'm of course joking. And when you notice that I've posted three seperate rambling diatribes during working hours, it's cause I write them all at night and scatter them throughout the day for balance. And when I come in Friday morning with stamps all over my hands, it's cause I was Notarizing all night in the Lower East Side. There. I'm glad I've gotten that off my chest.