In a perfect world...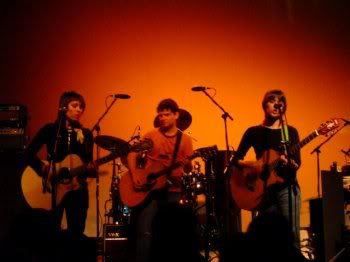 ...Tegan and Sara would be #1 on TRL and have legions of fans following them on tour. I am So loving their new album 'So Jealous'...It's cute and catchy. Listen to a track below:

Tegan and Sara - i know i know i know


...Broken Social Scene would be headlining shows at Hammerstein Ballroom alongside the Pixies. They sounded GREAT last night, heaps tighter and more together than their wonderful and 'character filled' set at Bowery the night before. They have so much sound coming off that stage, it's gotta be something for a band like that to play in a hall like The Stein. I urge anybody who hasn't seen them yet on their mini-run to check out their final set tonight at Bowery. It's 'sold out', but there are plenty of extras available outside and on craigslist for face value. It's hard and expensive to tour with 11 band members, and they've hinted they can't be doing it for much longer. So really, go try and see them tonight, cause they put on a show not to be missed.

...The Arcade Fire would be playing Southpaw instead of Warsaw on February 2nd. Any true Brooklynite (which I'm obviously not, but I...I know many) prefers this joint to anything in Williamsburg. I'd also be more inclined to go see them twice if they hit up the Slope. Either way, tickets are ON SALE NOW for the Bowery show. (Thanks to Brooklyn Vegan for the heads up.)

...The Pixies would be my favorite band it the world, and last night's show would be a dream come true. But alas, this is not the case. While I suppose I own a few more of their albums, and know a few more of their songs than he does, I thought Joey ToTC absolutely nailed my reaction to their set in his review yesterday. They really were great to see, and I enjoyed their set a ton, so if you have no plans to make it to any of the remaining sets, you should strongly reconsider and try and get a pair off craigslist for face value. Shouldn't be too hard, and you won't regret it.

...The New York Knicks, taking a page from the Mets, would just suck it up and trade Crawford for Vince Carter. Now that Houston's back, they need somebody who can play the 3 consistently and explosively. Crawford has been great, but there's only so much you can do with three guards who all need to start. Marbury plays 40 a night, a healthy Houston should push 35. Crawford gets squeezed since he can't guard the Small Forward. Carter can. Plus he is simply a better overall player, tho slightly older. Despite his recent struggles, Carter is an All-Star when he wants to be, and while Crawford has been great, he is too inconsistent overall. Make the deal, shake shit up, and not only will this get Isiah the headlines, but it may actually help them win too.