Have you ever seen a human heart?
It looks like a fist. Covered with blood.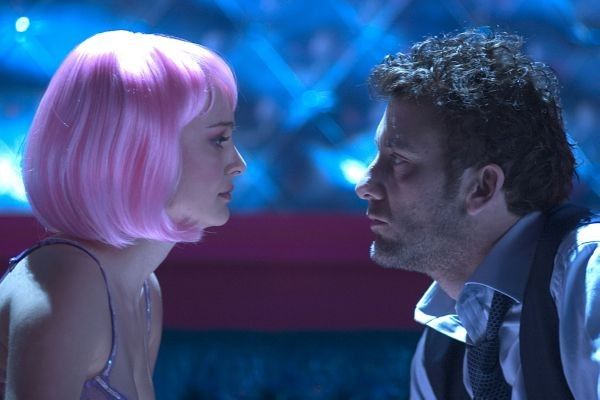 While killing some time in Hollywood last Friday waiting for my friend to get off work, I went to go see Closer at the Archlight, which is the nicest movie theatre I've ever been to. Really liked the film. Owen and Marber both deserve oscars for this. Golden Fiddle posted a very well written, but negative review that I think overall makes some good points, but in the end may have missed the mark. Either way, I recommend seeing the movie. It was very very good.

In contrast, I saw The Aquatic Life in another very nice theatre at The Grove in LA, but this movie was...bad. I don't know how to tiptoe around it. It just was not good. The plot was nonexistent, the characters were shallow and boring. The emotion was tacked on and forced. It was pretty at times, Dafoe was excellent, and there were maybe a couple of memorable moments, but overall it was a bore. Too bad, cause Royal Tennenbaums is one of may favorite movies ever and I have been looking forward to this for a long time. I really wanted to like it, but could not.

Saw this morning that EA sports has apparently bought exclusive rights to the NFL's use in videogames. While this has always seemed as an inevitability to me, it really fucking sucks. Especially because ESPN/Sega Sports has been making a far better and already overlooked Game in the 2K series for years. So now it's Madden or nothing. I don't care enough about sports games anymore, so it's likely nothing for me. So just like whenever competition is eliminated, the Madden series now has no incentive to improve their already existing model (not that they really have been for the last 4 years anyway) and in the end, as always, the kids suffer. A sad day for videogames indeed.

In other news nobody reading this cares about, looks like the Mets are gonna actually get Pedro, which I'm excited about since the off-season is the only fun time for a Mets fan. When he blows out his shoulder next June, we can look back at how fun it was to have signed him in the first place. I also was excited when they got Mo Vaughn.

Details are out regarding the Mercury Lounge New Years eve party. Tickets are available now. I doubt I'm gonna go, but tickets are Only $20! Best deal in town so far.

ASOBI SEKSU
OTHER PASSENGERS
THE WINTER PAGEANT
LEVY
STYLOFONE
AUTODRONE
Free Champagne Toast at Midnight!

Also noticed The Dears, who are on NME's new Cool List, are playing The Merc January 15th. Mark your calendars, cause they are worth checking out. If I had a cool list, they would likely be on mine as well. You can download some songs at Klepshimi.

Is anybody going to this Ian Brown show? I hear his new shit is atrocious, and even the prospect of hearing 'she bangs the drums' live isn't enough for me to shell out $30. Sorry buddy, but I'm sure there are some more age appropriate heads who'll fill up the joint.

The Fever are likely the Surprise Special Guests at Rothko Thursday night. Elefant is gonna be going between KC and Tulsa, and nobody else on the Kemado Label is really worthy of being a Suprise or that Special. This is just a guess, but an educated one.

Pitchfork, as always in a timely manner, has personally corresponded with Colin Meloy of the Decemberists to discover he's heading out on a solo tour next month. I've never e-mailed the dude, but the dates were posted on his website like two weeks ago. I did, however, call The Fez today, and they told me tickets are not on sale yet, but will be soon, so check back often. As soon as I hear the word I will post.

Thats all for now. Pixies tonight, with Broken Social Scene opening. Very excited.