Savages, Indeed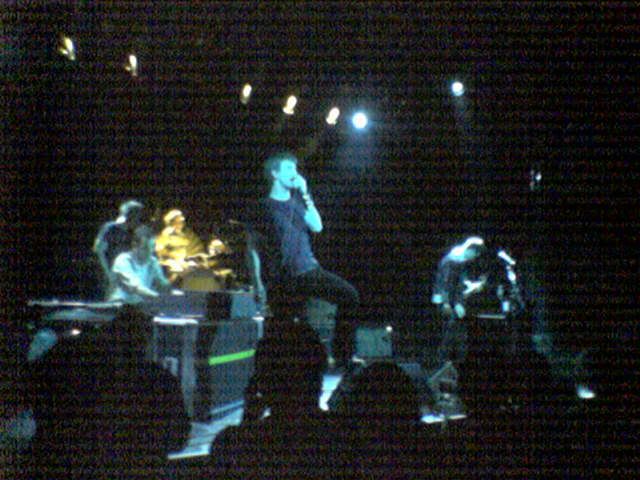 (via the trusty cameraphone)

So after watching the OC (awesome, by the way...more in a minute), I headed over to the College Music Awards at Irving Plaza to see The Walkmen. It was a complete joke. And everybody knew it. When I arrived around 10:30, there were about 200 people milling around (in a 1000 person club, mind you), most of which had a VIP sticker on their pant leg. I was just in time for the Awards part of the show, which was embarrassing. Norah Jones, Yellowcard and Jason Mraz were the 'Big' Winners, all giving a video thank you on the screen to a chorus of boos from the crowd. Up next was the Ikon career achievement award for the Ramones, accepted by Marky. He told some bad jokes, pretended to play the guitar, but overall took the whole damn thing way too seriously, which was sad. The crowd, now starting to fill up to about 1/3 capacity, tried to show some respect to the guy, but it wasn't till afterwards where the heartbreak really set in.

The MC for the night...some Fuse VJ apparently, came out to announce one more award...Band of the Year. And of course it was Taking Back Sunday. And of course the Crowd Booed, and of course THEY WERE THERE IN PERSON TO ACCEPT THE AWARD!

Poor Guys...they didn't even want to come out. Once they did, the crowd was somewhat embarrassed and kept quiet, but I think the damage was done. Oh well.

The Walkmen then came out to play a set, several times calling out the lameness of the whole event, and apologizing for having people wait through the whole thing. They were great I thought. There's something about 5 preppy white kids in their mid 20's playing music about growing up and being responsible for yourself. It's some shit I can relate to. Productshop described Bows and Arrows as "The ultimate quarter-life crisis album", and I think that's spot on. I bought it last winter and, with the exception of "The Rat", I never really listened to it much. Until now. And no, it had very little to do with the fact that they were on the OC a few weeks ago. I think it just took me a while to realize just what they were actually saying. Or maybe it's that I'm a year older than I was last year. But I get it now. And I've been listening to them non-stop.

Overall it was a weird fucking night...Poorly lined up and promoted all around. Just get Yellowcard to play this thing and the reaction would have been much better. Was great to see the Walkmen tho, so in the end it was worth it for $10. At least I got a good story to tell out of the whole thing.