Luna Lundi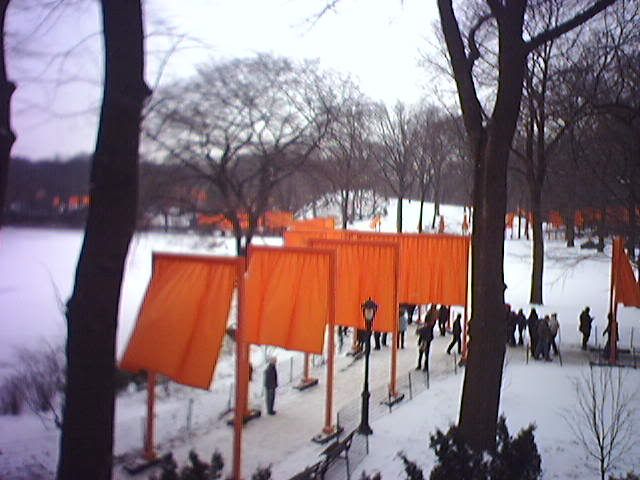 Fun Weekend. Saturday morning I inexplicably woke up on the Upper East Side, and figured while I was already up there, it'd be the perfect opportunity to finally go see the illustrious Gates. I had been getting emails threatening to suspend my blogger account if I didn't post a picture of them before today, so I figured it was a wise thing to do.

Of course they were kinda boring. I was talking to my parents over dinner at Five Points the night before, and they described it more as a sociological experiment rather then an art exhibit. It was something EVERYBODY had to talk about. Like we are almost forced to. It was THE destination. The likes of which we rarely see in this already-too-crowded city. This aspect was certainly more interesting and impressive then the actual art, which really didn't do anything for me. (or many, I'd imagine.)

After walking down to 60th street on the east side, I decided to head west on CPS and check out another uptown destination I had never been to: The Time Warner Building. I was even less impressed with this "mall" than I was with The Gates. Not a single shop there had any interest to me. But it was still early, and I was trying to time myself so that I could get back down to Union Square right at 1:00 to catch the box office at Irving opening. I grabbed a quick lunch at BarMasa upstairs before grabbing the N train back downtown to grab Walkmen and Built to Spill tickets and the Upwelling EP at Virgin before finally heading home.

That night I went down to Rothko to see I Love you But I've Chosen Darkness, who I really was impressed by, but my god has Rothko become intolerable on a weekend! For starters, they've stopped selling Sparks behind the bar, to which I was like fuck that! I had a long day walking about the upper-boro, and it was exactly what I needed to make it through the night, but the mere suggestion was greeted by a dismissive pfft by the bartender. Wack. They, once again, completely overbooked the venue, and it was so uncomfortably crowded I was pinned back almost in that dark little hallway behind the merch table for most of the show. I thought the band was really good tho, and was glad to have caught them while they were in town and all, but shit, it was tough to enjoy.

Yesterday I watched a lot of the pre-Red Carpet shit on E! while playing the new MVP Baseball, which is a ton of fun. An extra treat is that, at least on paper, The Mets are really really good! They are ranked 6th overall (Yankees 2nd, Red Sox 1st) and are a really fun team to play with. Another bonus is the soundtrack, which is remarkably relevant. It features songs from The Bravery ("Honest Mistake"), The Zutons ("Pressure Point"), Hot Hot Heat ("You Owe Me An IOU"), …Trail of Dead ("Let It Dive") and Louis XIV ("Finding Out True Love Is Blind"). I'm not normally a big fan of LXIV (It takes a lot for me to take a band from LA seriously), but I really love that song. Listen below:

Louis XIV -Finding Out True Love Is Blind (right-click/save)

Last night I went down to Bowery somewhat reluctantly because of the Oscars, but when I realized I had basically seen NONE of the nominated movies besides Closer and Eternal Sunshine (Which were barely nominated themselves) I decided to blow them off. Was glad I did. Luna was so impressive live, playing impeccably tight songs with enough (but not too much) guitar meandering for my tastes. Big thumbs up from me. I only wish I was more familiar with their stuff.
UPDATE:Check out a real review at the always excellent One Louder.

This week I'm gonna go see The Frames tomorrow, Interpol and Blonde Redhead play a small club show at RCMH Wednesday and Sleater Kinney on Thursday. And today at work I'm playing through all the Luna albums available on Rhapsody…hence the title to this post.