Blasphemy, you'll yell!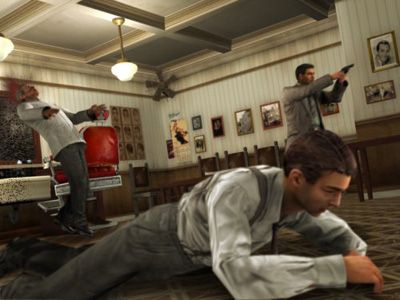 People are gonna flip out over this one. The most classic of all classic films, The Godfather (Ranked #1 on IMDB at last look) is being remade into a videogame. Now, there is a very very good chance this will be a disaster, but looking at the first few screenshots made available, it may not be all that bad. Apparently they are using the original voice actors for the project, which sounds good, but usually just means they'll take sound clips from the films and put them into the game. Not that special. We'll see how this develops…

Bloc Party has sold out both nights at Bowery Ballroom a full two months before the shows go on, and two weeks before their album even comes out. Tickets are still available for the Motherfucker Presidents Day Party at which they are playing, but many appear to be scared off by the seemingly strict dress code requirements. Whatever. If you still haven't heard their upcoming album, you can stream it for free here. (via Brooklyn Vegan)

Good seats come to those who wait. After nothing but rear-side orchestra seating available 5 minutes after the March 2nd Interpol/Blonde Redhead show went on sale, I was skimming across Ticketmaster yesterday I was able to snag dead center Orchestra seats about 18 rows back. Good seats are still available for both nights if you (like me) were having second thoughts regarding not going to one of these two shows at the RC.