The late to the party edition…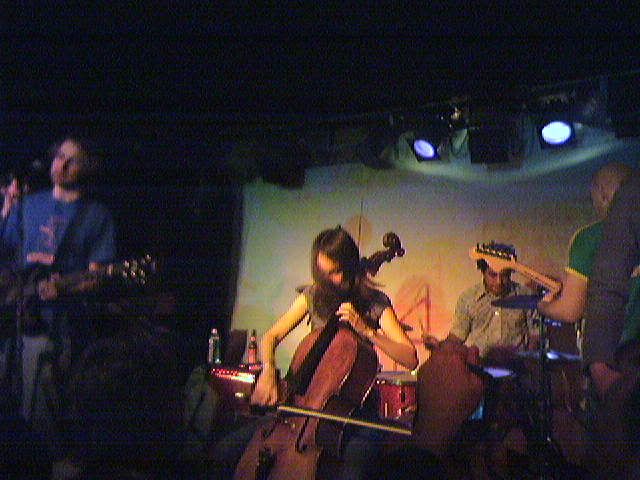 (via Cameraphone)

So…it snowed. The most since the infamous Blizzard of '96. It didn't seem nearly enough, ya know?

Friday night seems a long time ago, but I went down to check out Sea Ray's final show at the Mercury Lounge . It was the first time I had ever actually seen them, but unfortunately and obviously, it will be the last. They were an incredibly exciting band to watch. Honestly one of the best live acts I've seen play there. I felt like I was watching something special come to an end there that night. I can now understand why they have garnered so much respect over the years, and it is too bad they were never able to extend their following to a larger audience. I wish them all luck in the future.

Brooklyn Vegan took some of the best pictures I've seen him take that night, so it you haven't already, go check them out here.

Saturday I had a busy night, and it was multiplied by the snow and the cold. I went over to the Fez around 8 to catch Colin Meloy play his set, which was superb. I could never get into his older albums before, but somebody shot me his upcoming album a while back and I really really dig it. I might go as far to say it's my favorite album of the year so far. He's got this west-coast/elitist accent and demeanor that I found incredibly endearing. I get sick sometimes of the 'poor me' singer/songwriter type that's always moping around, and it's surprisingly refreshing to hear an enlightened, intelligent performer singing about stuff you'd more likely hear in a nineteenth century novel than on a stage in Greenwich Village. I really dig it, and have given his other stuff another chance. If anyone has an extra ticket for his late show tonight, I'd really like to go see him again. Please shoot me an e-mail if you do.

After the show, a friend and I went across the street to one of the nicest and most understated restaurants in the city, Five Points. Because of the snow we were able to walk right in and get a table no problem, and we had a quick late meal before adventuring down to Rothko to check out Jean Grae.

By the time we finally got down there, I was cold, exhausted and wet and not in the right mood to be pumping my fist and all that shit. We kinda stood by the back and watched her do her thing. Great personality and stage presence, but I felt like a bit of a downer and couldn't really get into the whole thing.

Sunday I stayed in and watched football and played Trivial Pursuit with some friends. Also caught the new Iron Chef America, which was fun, and this new show on CBS, Numb3rs…Starring a full cast of "that guys" from Sports Night, Northern Exposure, 10 Things I hate About You, and Ally McBeal. Pretty good.

I spent a lot of time this weekend checking out some new albums…some of which will be coming out in the near future, some of which I never got a chance to listen to last year. Anyway…quickly:

The Bravery's debut is EXACTLY what you'd expect if you've been following them for the last while. The album looks to run 10 songs at a little over 30 minutes total, which is way too short, but kinda expected for this stuff. There is one absolutely awful song that I think is new, one that sounds like a total Strokes rip-off, and then a bunch of familiar stuff which is remarkably catchy and well executed.

I also got around to finally checking out Pinback's album from last year, which The Magic Carpet called her favorite album of 2004. I thought it was pretty great after one straight listen through.

I also got a peek at the Bright Eyes albums and Elkland's upcoming LP, but I haven't listened to either enough to really give an impression just yet.

This week is gonna be mad busy. Tonight I'd love to go see Colin Meloy again if I can find a ticket. Tuesday I will NOT be seeing Stella because I forgot to confirm my Ticketweb order once I realized tickets were back on sale. I will, however, be going to The Ted Leo, etc benefit show at Rothko, and maybe finally go see Buck 65 beforehand if I feel up to it. Wednesday I wanna go see Clap your hands… at Pianos and Thursday I'm gonna get my angry on with Death From Above '79 and others, who have to be an improvement over the last time I saw them in England. Next weekend should be pretty chill.