Since you've been gone...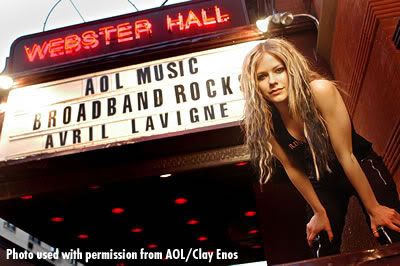 Anyone ever watch any of the non-movie on demand channels? Thanks to a tip from my mom, I've been watching the AOL music video channel a lot the last few days. Channel 1002 i think? or 1003? There's all sorts of stuff up there...Home and Garden OD, Golf OD, CNN OD. Lots. Anyway...the point is I've been watching a lot of Avril videos on there recently, including a live one filmed at Webster Hall. Just made me realize how fast I'd jump on tickets if she was playing a club show in New York. Very Fast.

Two shows you've likely already heard about of now, but thought I'd mention anyway.

Nine Inch Nails are playing two nights at Hammerstein May 15th and 16th. You can go here today at 4:00 to try and get presale tickets.

Garbage is also playing Hammerstein on April 19th. There is a presale this Thursday, and the password is SHIRLEY.

So while it's all well and good that these acts are playing Hammerstein, and not Roseland or (god forbid) the Garden, it's gonna cost. Garbage tickets will run you $33.00 and NIN are going for $45.00. All this before service charges, too. Ouch. I guess you gotta expect to pay to see acts like this, but it's still a lot of money. Don't know yet if I'll go to one, the other or both, but I guess I gotta decide soon, cause these shows will sell out instantly.

Is it weird that I wouldn't hesitate to drop $50 to see Avril at Hammerstein, but I am for these guys? Yea, a little I guess.

And don't get me started on the new Kelly Clarkson...